German-American Social Club
of West Central Florida, Inc.
www.germanamericanclubwcf.org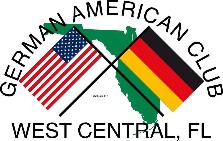 May, 2017
Once again, I welcome you to our monthly edition of Die Stimme. This will be our last one until September. Our three-month recess will begin after the May meeting, and closely followed will be our Oktoberfest at the Archangel Michael Greek Banquet Hall on 23 September. So for those that will be traveling during the summer, the Board and I wish everyone a safe and healthy vacation and come back refreshed for more good times. Before I forget, I would like to thank everyone that contributed and supported our potluck at the April meeting. As usual, everything looked great, and a big thanks to the hosts for the evening; Gabriele Reins, Rosemarie Cinch, Erika Heuschen, Linda Ross, Lynn Frutiger and Karin Coburn. We have a great membership and I am lucky to be part of it.

For May we start out with our Anniversary Dinner Dance on 7 May at the Citrus Hills Country Club, followed by our membership meeting the following day on 8 May. This will be good for membership feedback. We will be celebrating the club's 46th birthday as an official club, and Manni Daum will be helping us celebrate. I hope we will have a lot of participation and everyone is having fun.

Our Oktoberfest seems like it is far in the future, but 23 September, 2017 will come faster than we realize. During the next few months, the board will be discussing our initial preparations and as usual, we will need all the volunteers possible. Hopefully I will be able to provide a draft copy of the work schedule soon after our May meeting. It seems like a long time away, but believe me, the time goes by fast and September will be upon us before we know it.

As usual, we will be asking volunteers to bake cakes for the Oktoberfest. A roster will be distributed by Anita Lorenz for you to sign up. Sigi Strak will be selling tickets starting at the May meeting and will go through the summer. The one thing that everyone knows is that the early bird gets the best tables. Before I leave Oktoberfest 2017, I just want to let you know that I think our Oktoberfest is one of the best, to include some of the larger ones in the area. I don't say that because I am the President of the club, but because our members do such a great job at literally everything from decorating the festhalle, to cooking, serving and everything in between. Everything is done in a professional manner. Thank you all.

This month we will be having Pizza and whatever you bring to drink. Our Pizza committee will be; Peggy & Walter Wolf, and Don Storck. Pizza will be followed by an evening of Bingo with team Wilhelmy and Brockschmidt.

Lastly, I mentioned it again at the last meeting, we are receiving very few potential vendors for inclosing in the Die Stimme. Remember it pays for the publication.

If you know of someone that is willing to advertise with us, just let Jim Coburn know and he will coordinate the process with the vendor. It Works. Thank you and as always, don't forget to visit our website: www.germaamericanclubwcf.org

Bis zum naechsten mal.

Michael J Reis
Updated

April 14, 2017

Marty