German-American Social Club
of West Central Florida, Inc.
www.germanamericanclubwcf.org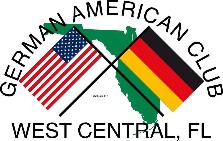 September, 2017
The great Florida summer is over and I hope everyone had fun and a healthy vacation. So now, I can officially welcome everyone back and hope we can continue with the second part of our club year with just as much camaraderie and good times as we had during the beginning of the year.

Our next meeting this year will be on Sept. 11 and it will give Sigi Strak just enough time to reserve the last seats for our 23 September Oktoberfest. Sigi will be selling tickets at our Sept. meeting and that will be the last opportunity for anyone to purchase directly from her. Tickets may still be purchased by contacting Sigi per phone as long as there are seats left. Last years Oktoberfest was a complete success and we are hoping that the same will occur for our sixth fest celebration at the Archangel Michael Parish banquet hall, located at 4705 SR 44 W. Lecanto. The music will be great as we will be listening and dancing to the band Alpine Express. They are always ready to provide us with a good time, although, I think they have as good a time, watching us. So, lets get out and dance, eat, drink and have another successful Oktoberfest.
During our summer break, members of the Oktoberfest committee met to work on and finalize the many areas of the fest that needed to be addressed. The majority of the areas seems to be well in hand. The one area that always falls short is our volunteers. As we did last year, copies of the Oktoberfest work schedule were sent out to members that will be supporting the fest. I received some feedback indicating that for various reason some members could not help. I am hoping that all the others are locked in. We still have some significant work vacancies and hopefully tonight we will be able to fill them. I mention it every year, but it is very important for our club. Our Oktoberfest is a fun event and everyone enjoys it. But in the midst of all the fun, we have to remember that one event carries us financially through the entire year. So, it is also a day of fun with a lot of work involved, so come and support the club.
In accordance with our bylaws, September is the month when the president appoints a nominating chairman who will pick one or two members in good standing that will help him present a slate of candidates at the October membership meeting. I have asked John Nabet to chair this committee. This year will be for Directors of the club, and when elected will serve a two year therm starting in January. Anyone interested in being nominated for a director position should contact John.
German Heritage Day is well into its planning phases, and a finalizing meeting is scheduled for November. The 2018 affair will be held on March 11, 2018 at the Central Florida German Society's clubhouse in Casselberry. Doors will open at 10am for coffee, Weisswurst and Weissbier. The food is always the best in Casselberry. More information on this affair will follow.
I thank everyone for supporting the club so well and as always, don't forget to visit our website at: germanamericanclubwcf.org Martin Grum is again working on and updating our website, so take a look. I continually mention at our meetings that we are always in need of advertisers to help support our newsletter Die Stimme. If you know of someone that is willing to advertise with us, just let James Coburn know, and he will coordinate the process with the vendor. Thank you.
This month we will be having cheese, salami and crackers after our meeting, and our hosts will be Anita Lorenz, Hannelore Templin and Helga Menke. Once the food is served, Gerhard Lorenz will show us an Oktoberfest film, which will hopefully put us in the mood for our own Oktoberfest.
Bis zum naechsten mal.

Michael J Reis
Updated

August 13, 2017

Marty